CALENDAR DRAW - DAILY WINNERS:
Dominic Rousseau, Dean Park, Cindy Kawaja, Patricia O'Brien and Glenn MacArthur, Marie Thorne, Candace Kennedy, Gary Wiseman, Crystal Hann, Rod Mitchell, Alex Humber and Wanda Elsworth, Gerry Murphy, Fr Edward Terry, Denise Cooper, Tom Robertson, Priscilla Boutcher, Alison Alexander.
CATHEDRAL SCULPTURES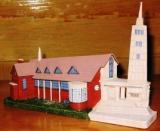 The cathedral is the mother church of the diocese. Miniature sculptures of the cathedral distributed by Catherine Karnes Munn are now available from the parish office. They are distributed from the parish office so that they can be examined for possible damage.. This miniature replica will be a memento of the official opening and blessing of the cathedral 50 years ago this coming September. Those not in the cathedral parish at the present time may like to have a copy as well especially if the cathedral was the place where they were baptized, married. etc. A sample of the sculptures can be seen at each door.